In the News
Those who dare to speak out against VMMC are severely censured. Local news headlines of circumcision kidnappings, forced circumcisions, post-circumcision raping sprees, and upsurges in HIV cases from the VMMC campaign have vanished shortly after publication.
Below are articles that have persisted despite immense political pressure.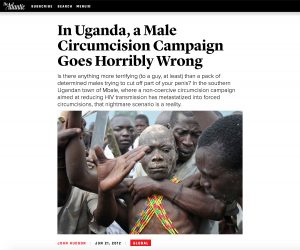 The article does not name the NGO at fault, though Millennium Villages is one NGO reported to target school children without parental consent in the area (Kakamega County).
"I am from the Luo community and in my culture we don't allow circumcision," one parent lamented.


Baylor Uganda circumcised Iteso school children without informing parents. One child ran away from home while another has refused to return to school.
"I asked the boy to tether the cattle in the bush but he did not come out of bed. When I checked him, I found blood flowing all over his private parts. I asked him what had happened and he told us they had been circumcised."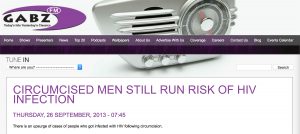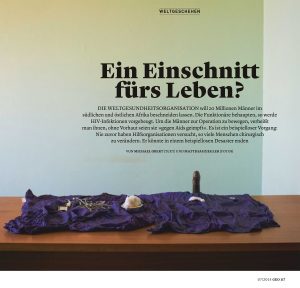 Ein Einschnitt fürs Leben?  (An Incision for Life?)    German PDF Unofficial English PDF
After 15 years in the Ministry of Health, he was let go because of HIV infection. In a support group he gradually got back on his feet. "Thousands share my fate," he learned there. "The circumcision campaign is a deadly deception."
The following two articles have been retracted from the Malawi News Agency's archives.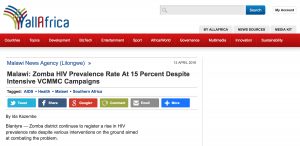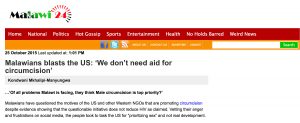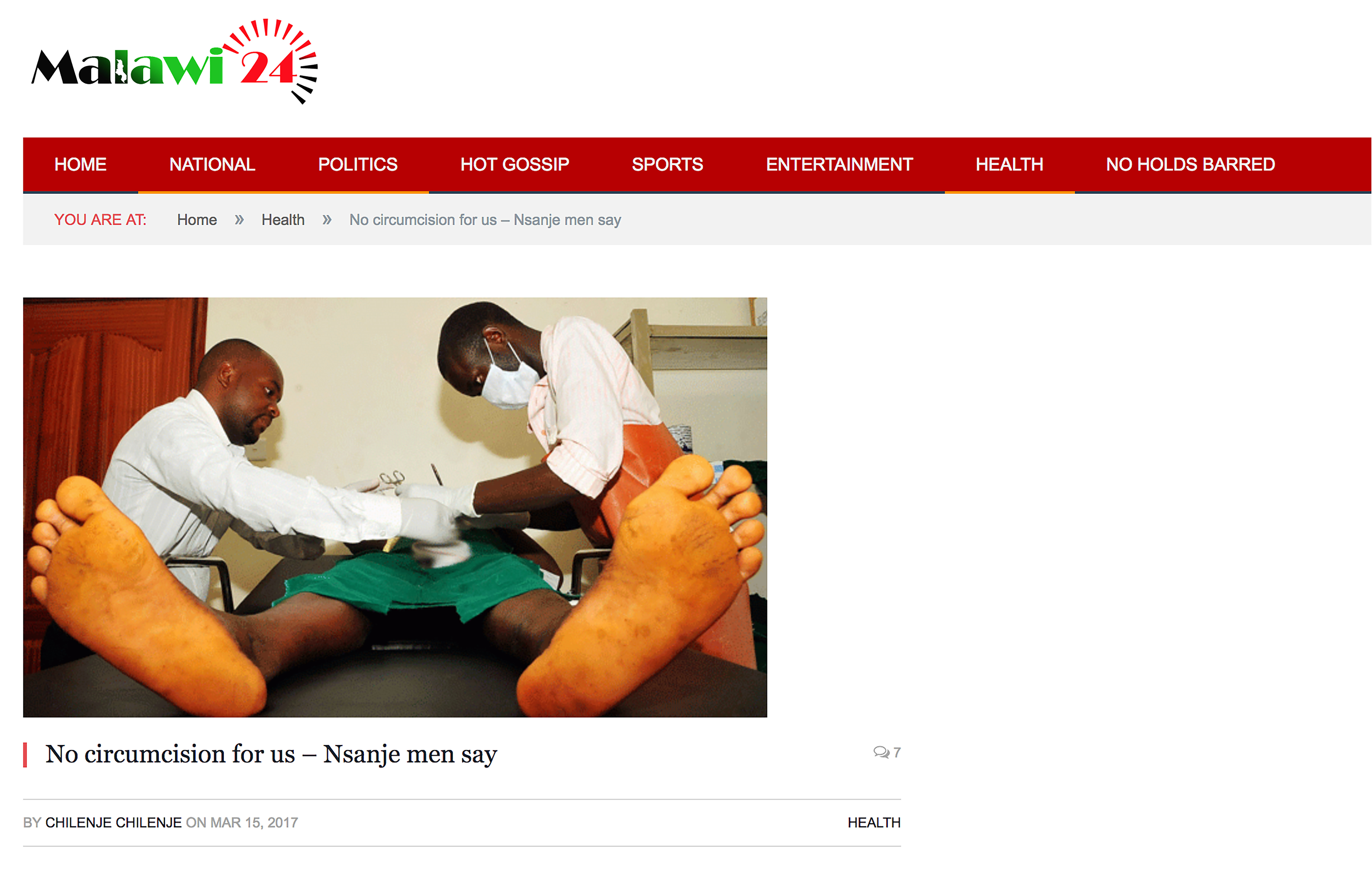 [B]etween 2009 [local VMMC roll-out] and 2015, there was an increase of 14.8 per cent in the proportion of adult Mozambicans who are HIV positive. …

Among adolescents and youths … women are three times more likely than men to be infected. …

Tete is the province where the lowest percentage of men are circumcised – yet Tete is also the province with the lowest HIV prevalence rate.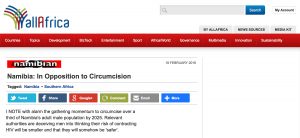 This article has been retracted from The Namibian's archives.

The benefits of circumcision are exaggerated, but the risks are real.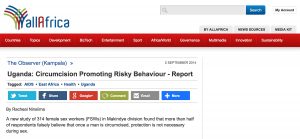 This article has been retracted from The Observer's archives.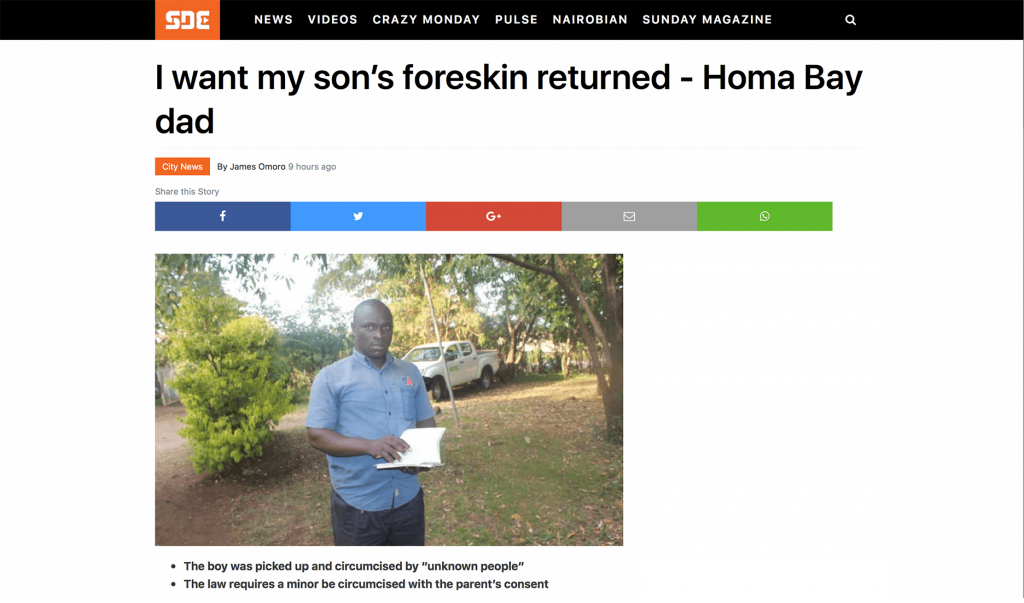 Gor, a father of three, told The Nairobian that the organisation's employees picked his son on the road and … lured him with a free ride. … The law requires that a minor should be circumcised with consent of a parent. Ignoring parents of a minor is an offence.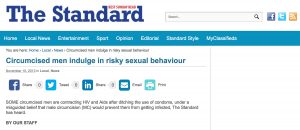 [M]ost of her circumcised clients were not willing to use condoms. "I have problems with circumcised men because they do not want to use condoms. They always argue that because they have been circumcised they did not need to use [them.]"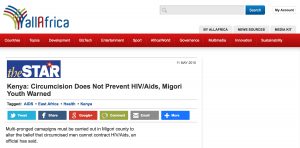 This article has been retracted from The Star's archives.
"First we have to clear the notion that circumcision is an effective remedy against HIV/AIDS [which] has fueled the spread of the disease[. T]here is an urgent need to re-educate [youth] on the misconception." … The trend has promoted the spread of the virus in the county.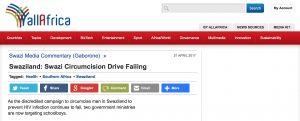 A Zimbabwe demographic and health survey conducted by the country's statistics agency in 2010 and 2011 revealed that [circumcised men were] more likely to be HIV positive than uncircumcised men. … In most cases, circumcised men are believed to be engaging in unsafe sex.

Despite these findings, HIV/AIDS expert Professor Gabriel Anabwani says there is no need to conduct further research to prove the effectiveness of circumcision in curbing HIV transmission. … "[M]ale circumcision on its own is more effective than most vaccines. Even if a vaccine for HIV was found today it won't be as effective as male circumcision."

Although the decision to be circumcised is supposed to be voluntary, men have consistently been pressured to participate.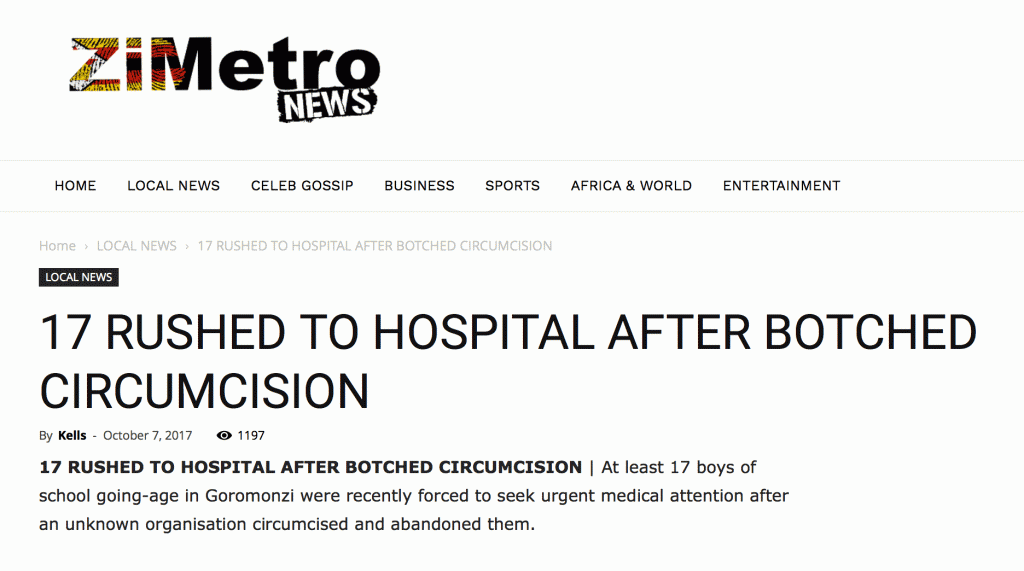 News stories of VMMC accidents and deaths are often retracted shortly after publication. Here are a few that remain.